There are different ways how to receive, knowledge and new experiences for adults. Swedish study circle method is considered to be one of the most efficient in the world.
Two communities in Poltava oblast (Tarasivka and Liutenski Budyscha communities in Zinkiv rayon) and  two in Kyiv oblast (Novyy Korogod in Borodyanka rayon and Sukachi in Ivankiv rayon) established a range of various study circles: artistic, educational or on advocacy, leadership, healthy lifestyle. The final conference of project «Enhancing Local Democracy Through Adult Education» brought together local community coordinators, NGO representatives, community leaders and activists who shared their experiences and discussed what to do next to make study circles a popular tool of civic education in Ukraine.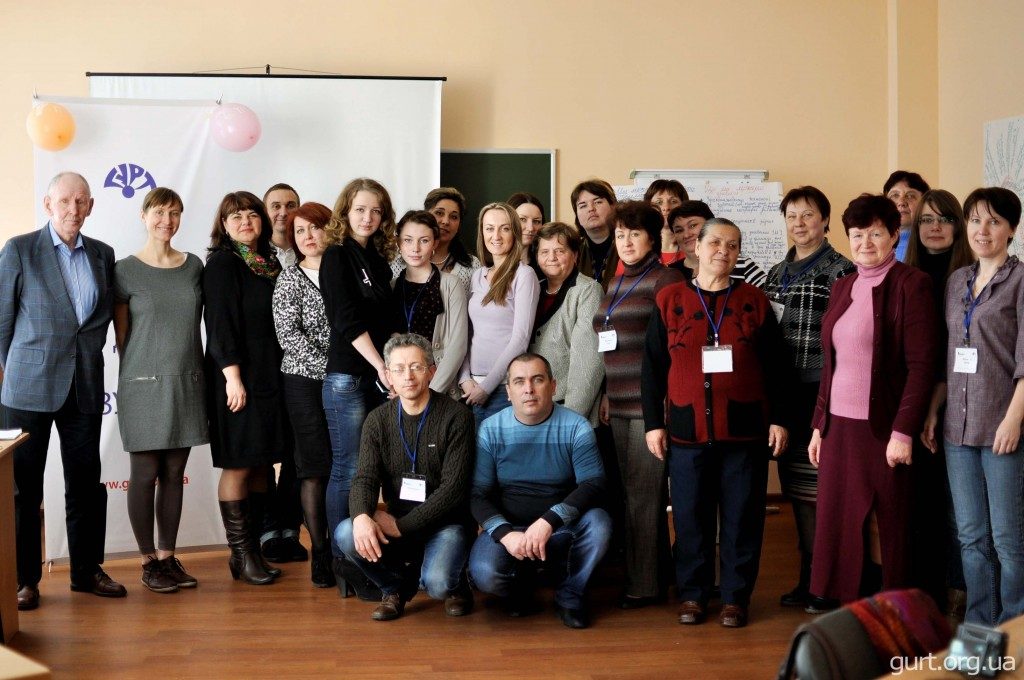 Day 1: Experiences Sharing of Study Circles Model Implementation in Communities
Maryana Zaviyska, Head of Societal Expertise Departament of GURT Resource Center, made an overview of the project results:
— During the project, we tried to implement the successful methods of adult education, which exists in Sweden over hundred years.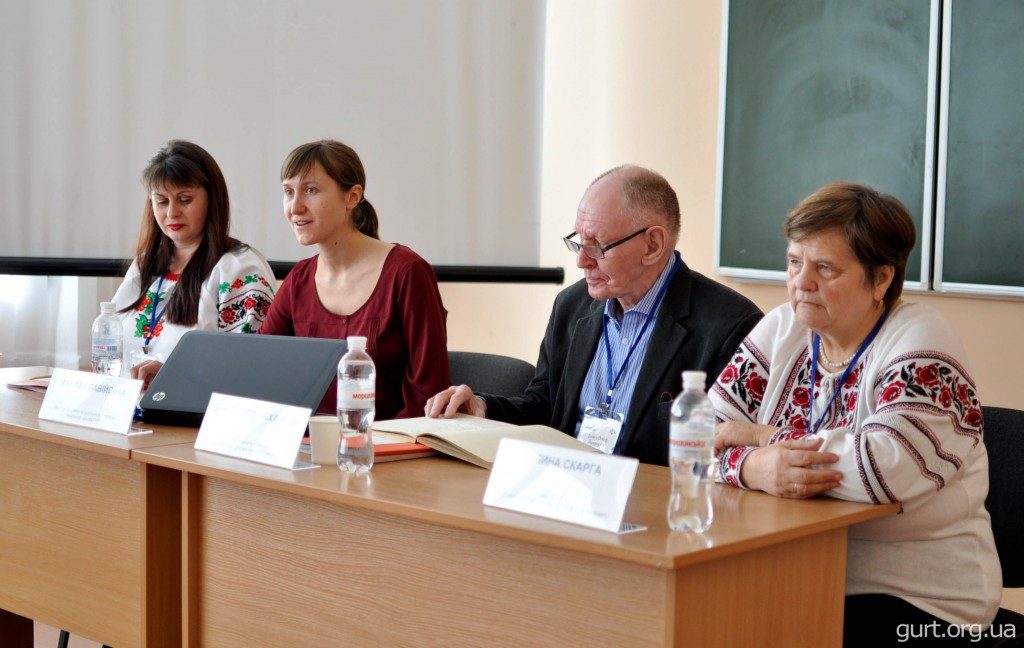 If we analyze the latest developments in our country it becomes obvious that it is difficult to implement systematic changes without constant education in communities. Joint community education is an opportunity to find understanding, which allows taking steps together towards further development.
Bengt Olof Johansson, an expert in organizational development and Responsible Project Officer, shared his observations about how study circles method works in Ukraine: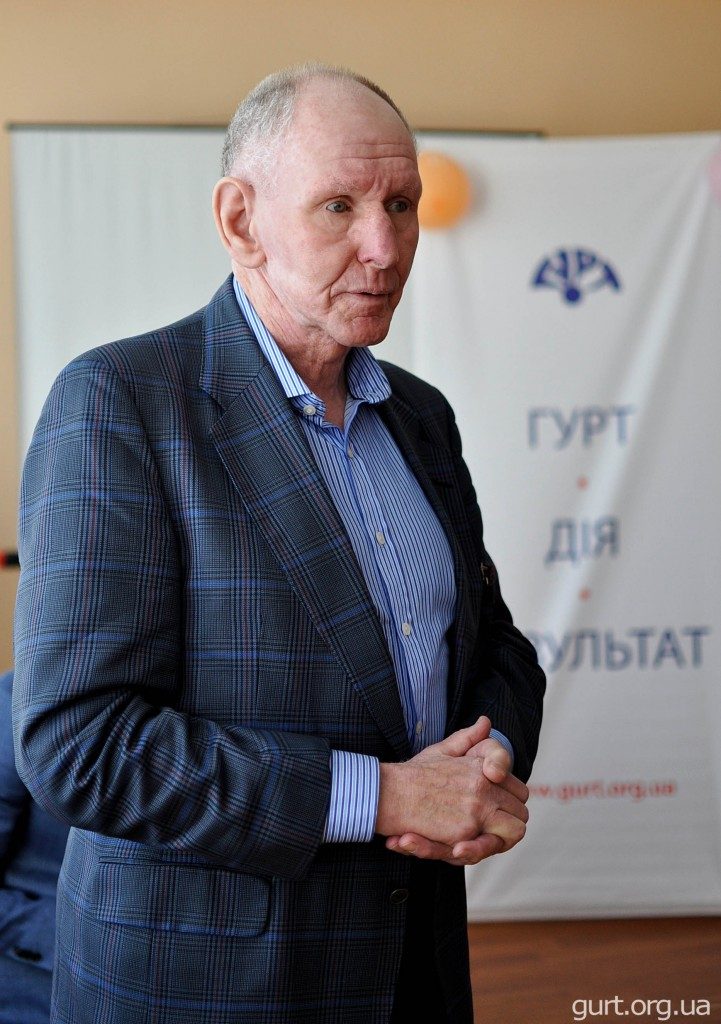 — I am pleased that the communities solve their problems. We worked together and planned what, how and where to do. No one wants to hear a person saying «this is right» or «this is wrong». However, if 50 people gather, work and learn together, discuss some ideas and decide how to do it better — only then there will be positive changes.
Galyna Skarha, project coordinator in Poltava oblast, shared her opinion about study circles in their communities: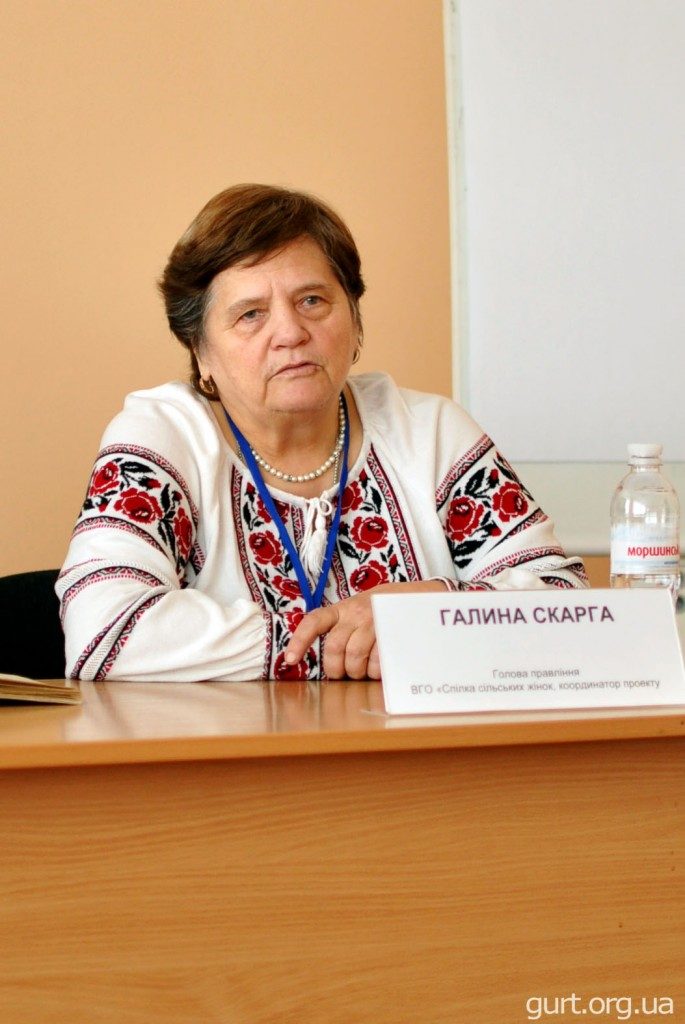 — First we arranged a community meeting, identified priority issues and realized what study circle we need. Then we established a study circle «Summer Eve» whose members are members of the song band, which resulted in creation of 2 song ensembles.
We also established a men's study circle «Podorozhnyk», which organized the renovation of roads in the village. Women in Tarasivka who baked loaves, established study circle «Tarasivska Baking».
It seems we have not discovered anything new, but the community is mobilized and asking themself now – «Why we didn't do this earlier?».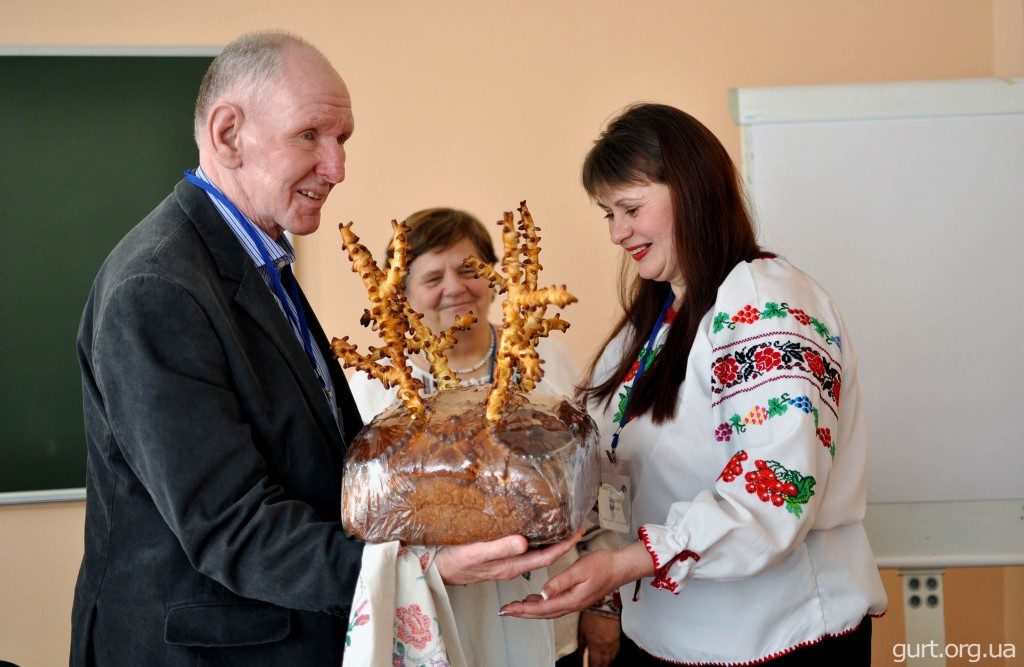 After opening speech the parallel sessions were arranged to discuss specific achievements in each community. Bengt Olof Johansson shared his experience on study circles method that exists in Sweden.
He outlined that folkbildning (public education) is an informal part of the education system, to which the several millions of Swedes join every year. The indicated system of education was developed at the beginning of 20th century and became a response to people's desire for knowledge and for influence on the development of the society.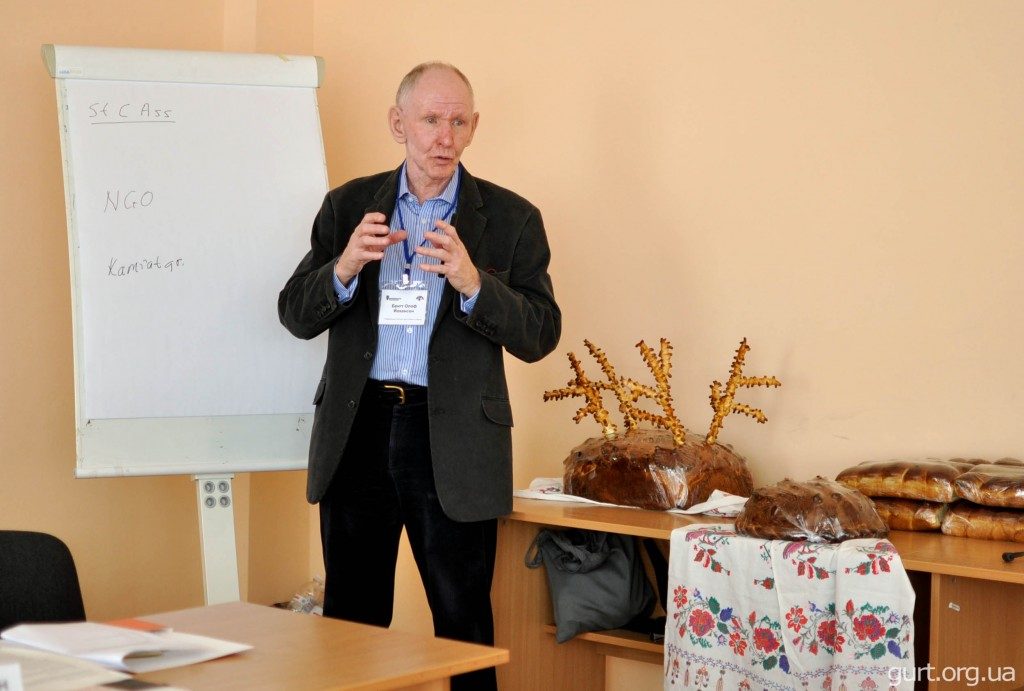 Iryna Prevor, leader of study circle «Advocacy» and «Women's Leadership» shared her experience on study circles method implementation in Sukachi community in Ivankiv rayon. Mrs. Prevor has indicated that in Sukachi community of  Ivankiv rayon their community members gained new knowledge on advocacy, learned more on advocacy campaigns development and about campaigns on changes implementation in the community. The practical result of study circle work was a solution of local legal issues regarding ownership of a community area. The activity of study circle «Women's Leadership» resulted in establishment of a Youth Association «Active Youth».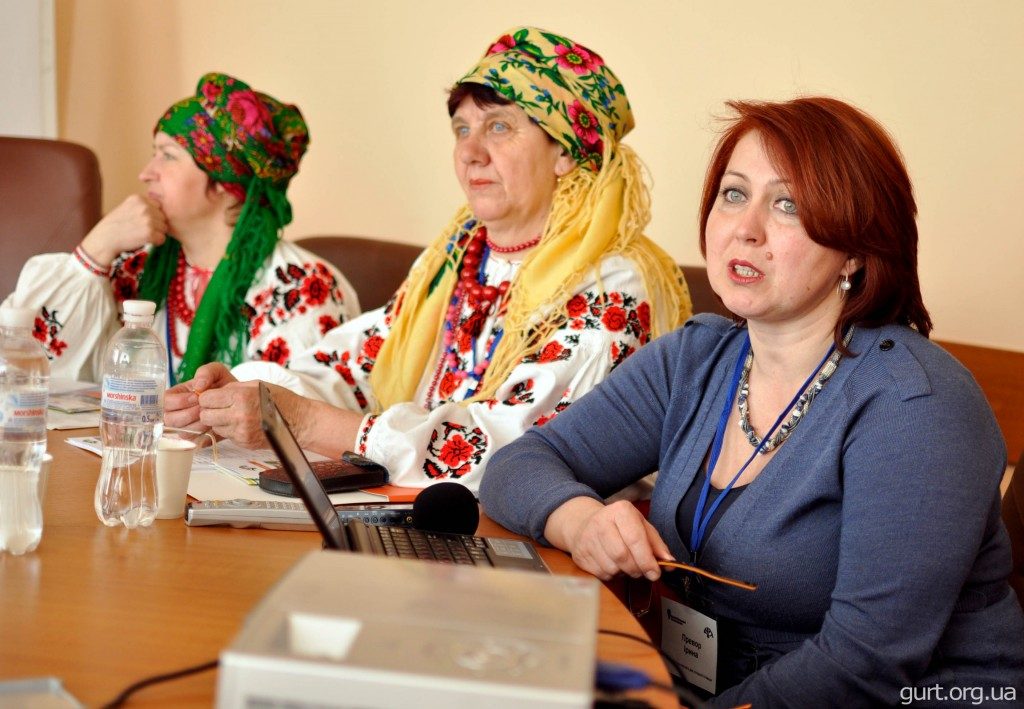 Liubov Balatska, member of study circles in Tarasivka community shared her experience in community members mobilization and their involvement into study circles work. The establishment of study circles for adults attracted the interest of younger people and children and they also initiated creation of study circles for children. Thus, children will be able to participate actively in solving problems in their communities in the future.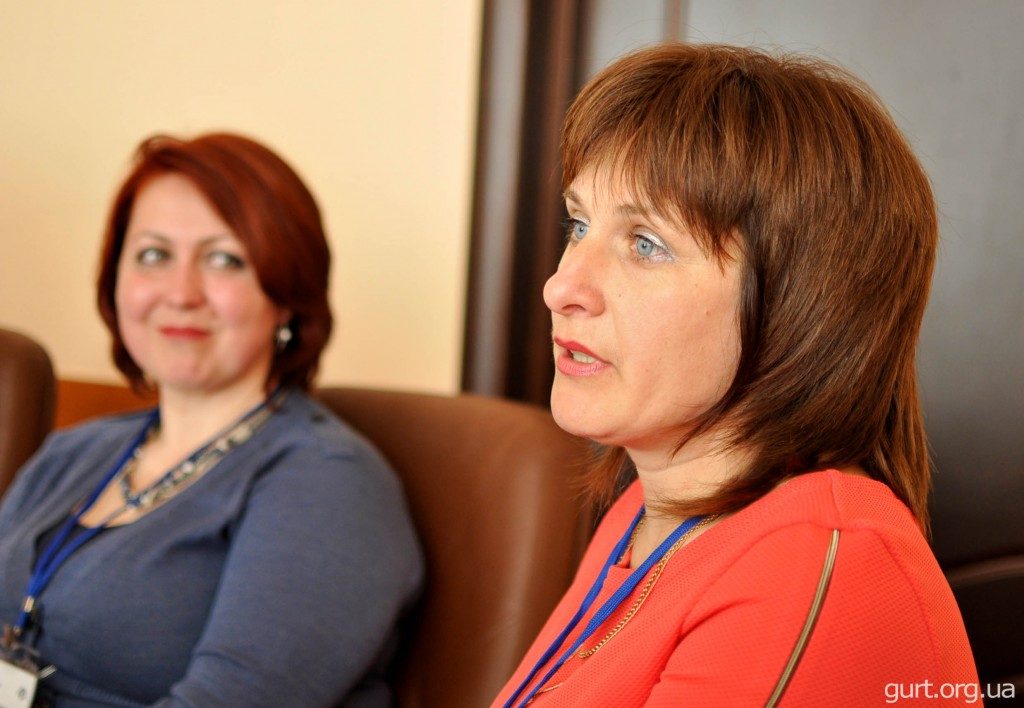 The role of study circle in developing leadership among youth have been discussed by Olga Harkusha, leader of study circle «Your Life — Your Choice» and «My Future», that are aimed on promotion of healthy lifestyle for successful future and leadership development among youth and children. Those two groups are both working and complement each other.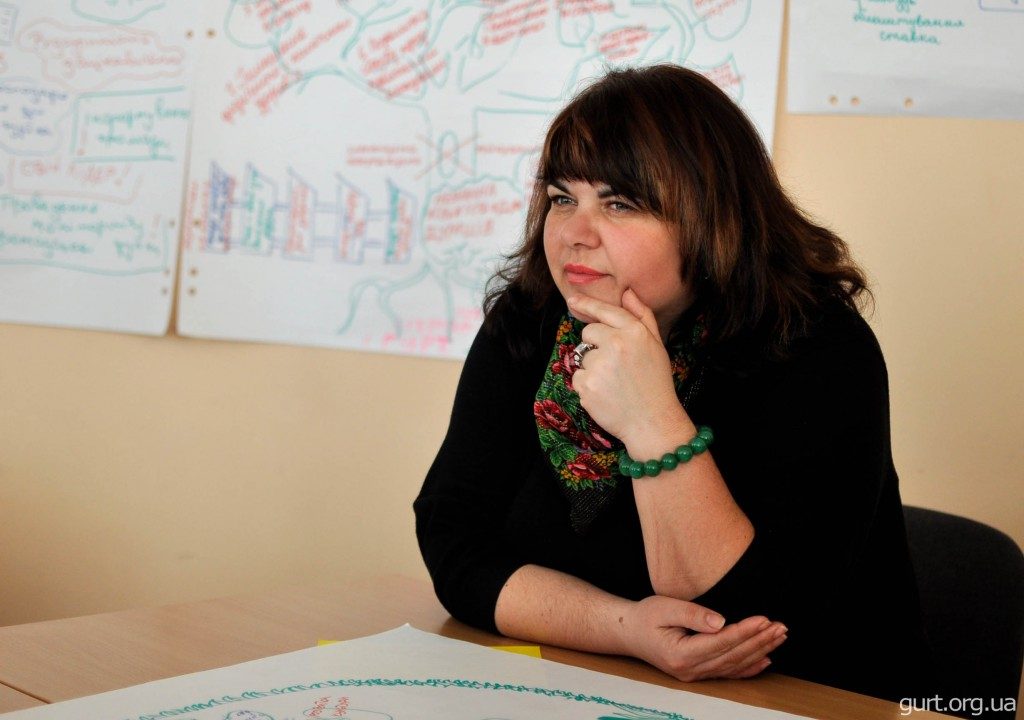 Liudmyla Korol, leader of study circle «Healthy Lifestyle» shared her successful story of study circle establishment in Tarasivka community: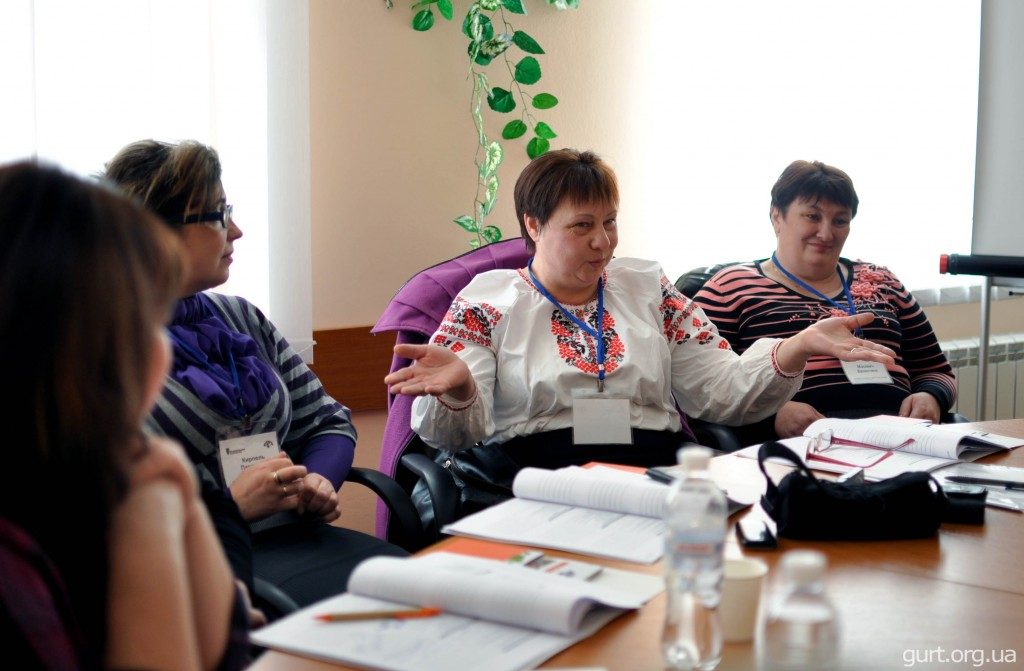 — When I had health problems I began to read a lot of books and understood – people has a great potential, but don't use it. We are seeking advices from the outside, but the solution — is inside us. Then I tried to practice yoga. When I realized that it helps me, I thought: why not to share the experience with others? Thus, it was decided to create a study circle on yoga for beginners.
Paraskoviya Kyrpel, leader of the choreography study circle and sports study circle of Tarasivka community shared experience on the role of study circles in increasing culture opportunities in the community. Since there were no cultural centers in community, people decided to establish study circle for children from 8 to 15 years old, and over some time a dance study circle for those community members who are over 20 years old was formed. For the first period there were two groups in study circle, and now they are three already. The further extension of activities and involvement of new members is planned in the nearest future.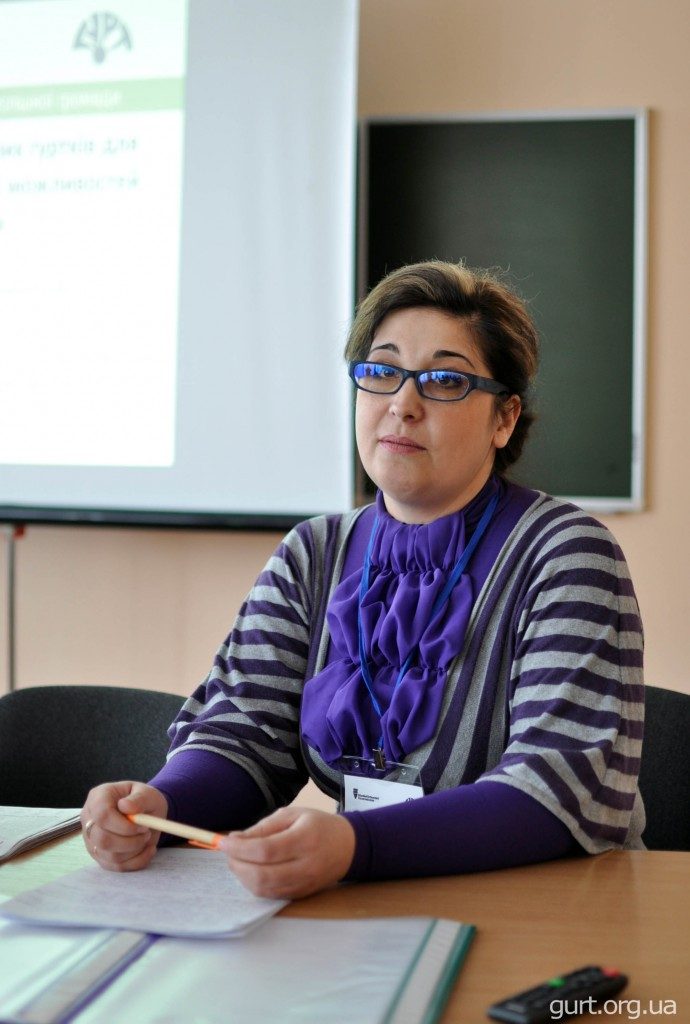 Raisa Slynko, leader of study circle «Summer Eve» of  Liutenski Budyscha community also shared her experience on study circles method implementation within increasing culture opportunities in communities. The study circle united not only those people who are good singers but also those who know the customs and traditions and seeking to pass the information about them to the younger generation.  50 meetings of study circles have been organized and 15 events have been held with the participation of study circles members. The neighbouring villages and districts often invite study circle members to participate in their cultural events. Therefore study circle "Summer Eve" became more than just a study circle, now it is a membership club and almost one family.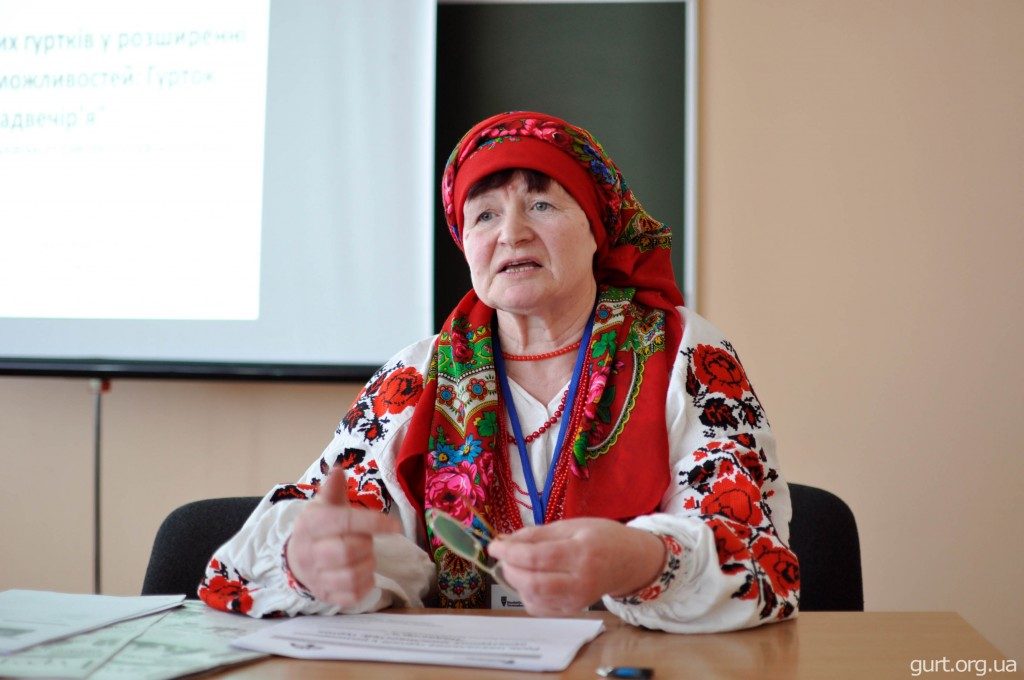 Day 2: Summary and plans for future
The next day, four groups have been working in the World café format. For each table a host was assigned who had to record key points and present the results. He had to stay in place while the other participants moved from one table to another sharing their thoughts.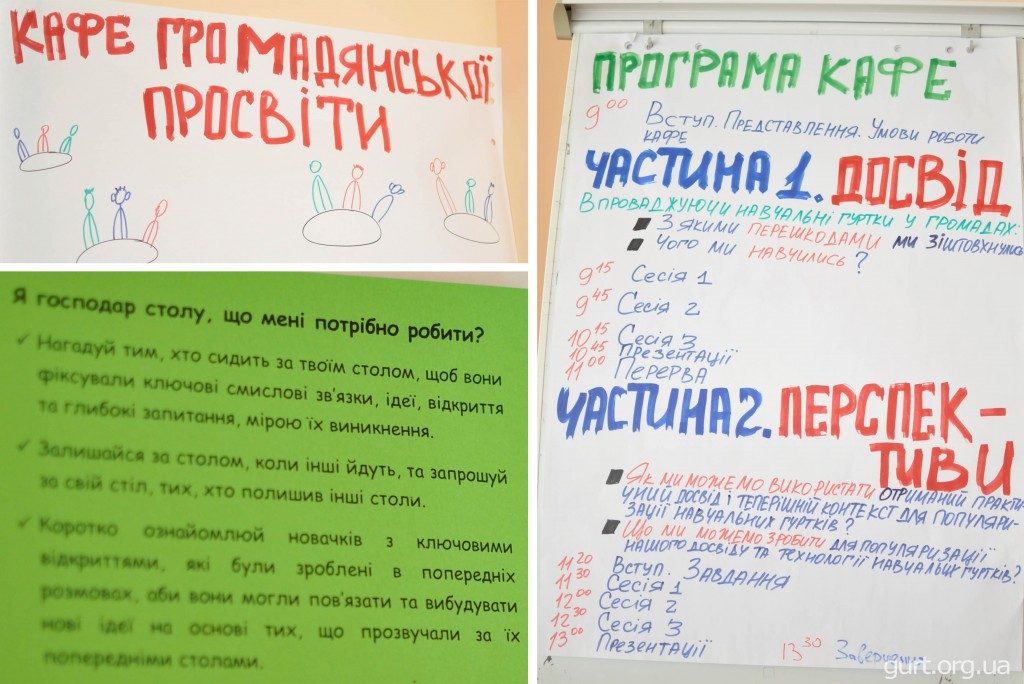 The indicated format was chosen because it allows involving all participants into discussion and activates creative approach to problems solutions. World Café is an approach that is opposite to the traditional debate format, such as meetings, that usually provide only a passive contemplation and inert presence.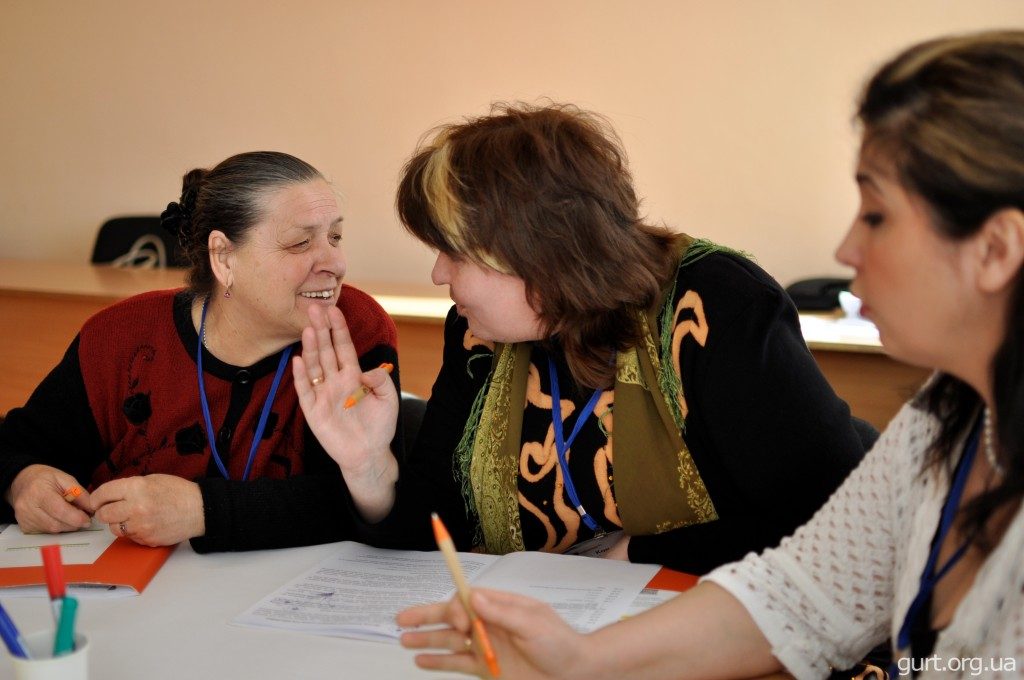 Thus, based on personal experience, participants identified obstacles for study circle methodology implementation in the community as following:
lack of support from the community members;
lack of material and technical support;
Soviet Union stereotypes of study circles as a form of work with children;
lack of skills of study circles leaders to represent effectively their achievements in the community;
employment structure of rural communities — dependence on seasonal work;
low level of responsibility of the study circles members.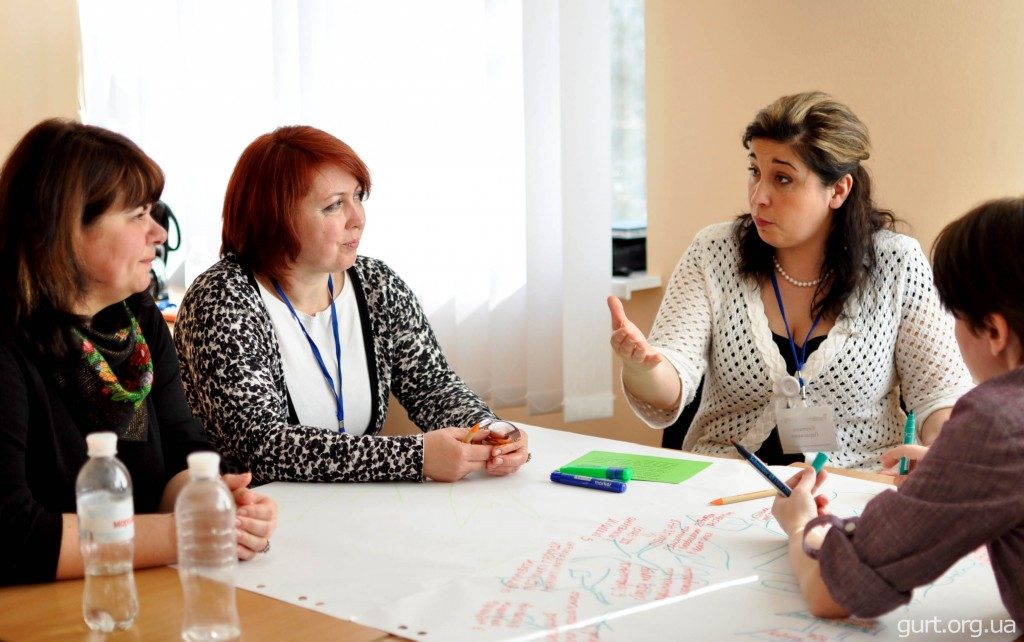 Further participant discussed what they learned by implementing study circle in their communities:
• to identify leaders;
• to collaborate with local authorities ;
• to solve problems together in creative way;
• to analyse and identify the needs of the local community ;
• to gain new skills (to organize people for activities promotion, to make a public presentation etc.);
• participants discovered their own strength, improved physical and mental health, increased self-esteem.
Yuliya Beznoshchenko, Head of Youth Association «Active Youth» (Sukachi community):
— Initially adults were not interested in the project and did not believe in the results achievement. However, young people realized that they can achieve something on their own. Addressing the community problems through the study circles is the most important achievement for us. Through this we have convinced the adult generation to join us.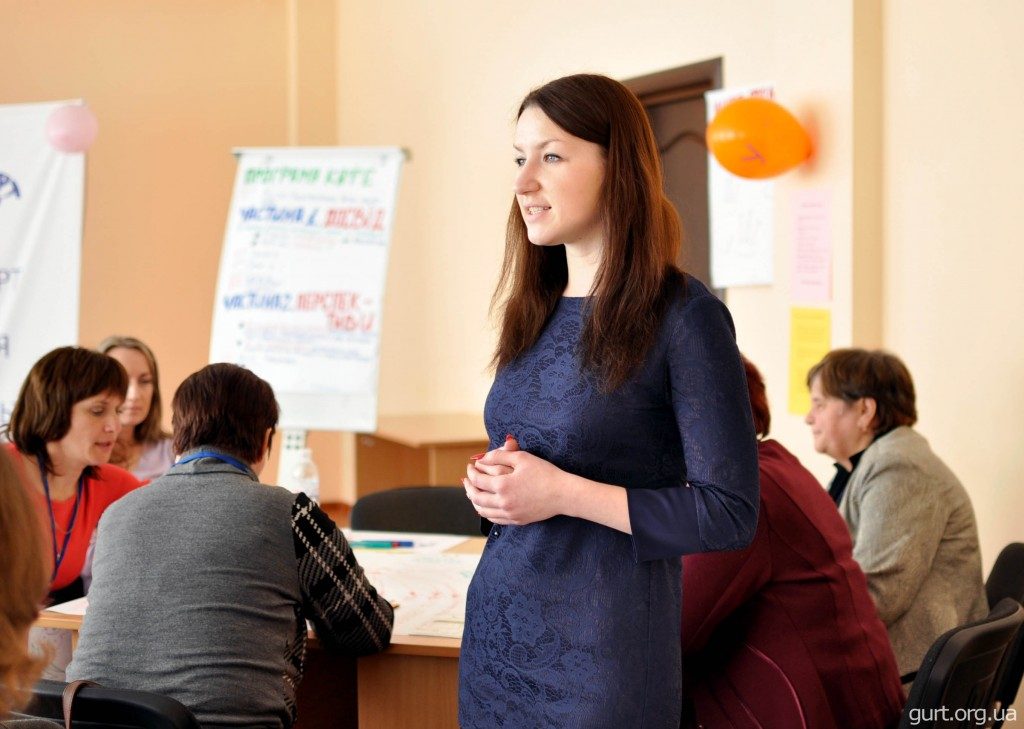 Answers to the question how participants can use gained experience and current context to promote study circles in civic education were identified as follows:
• to use technology for study circles within the implementation of other projects in the community;
• to initiate new study circles in their communities;
• to use leadership potential of study circle participants to solve current problems in the community.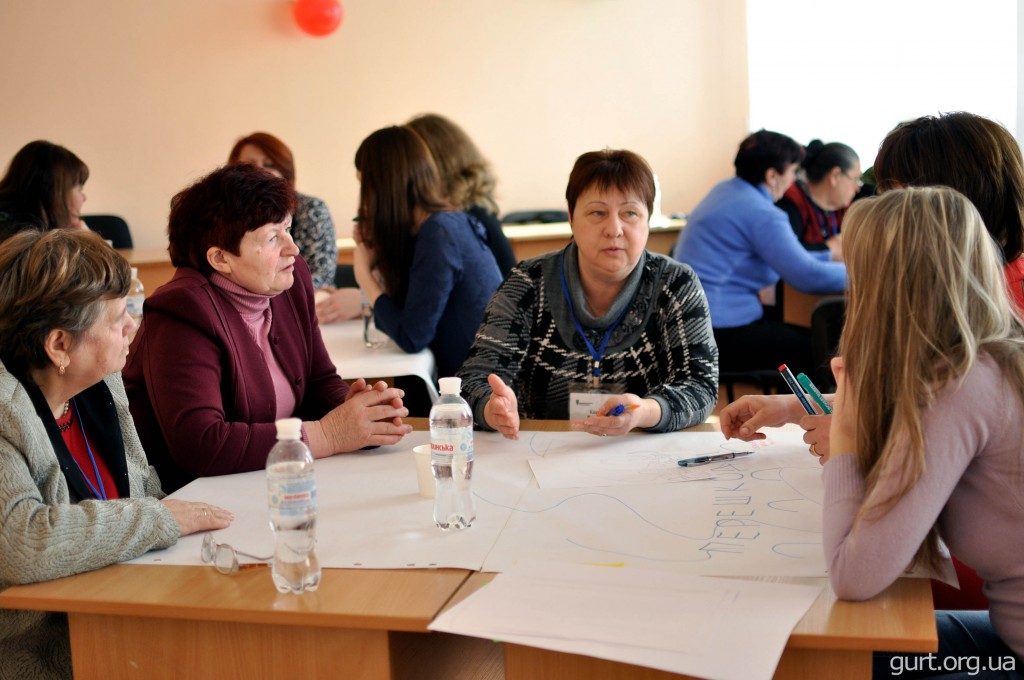 The participants also tried to find the answer to the question: what can we do to promote our experience study circles methodology? The following steps were developed:
to compile and disseminate stories about the activities of  study circles;
to study the needs of specific community and to establish new study circles;
to conduct workshops by study circles leaders on sharing experience and best practices;
to involve new participants into the study circles;
to involve government officials and reputed persons into study circle work;
to expand the activities of existing study circles;
to educate young people and involve them into participation in civil society life;
to unite different people within the study circle under the slogan — «We are all different — but everyone is useful» (for instance people of various nationalities);
to represent the achievement of study circles for sharing best practices in the format of photo exhibitions, video archives and in museums.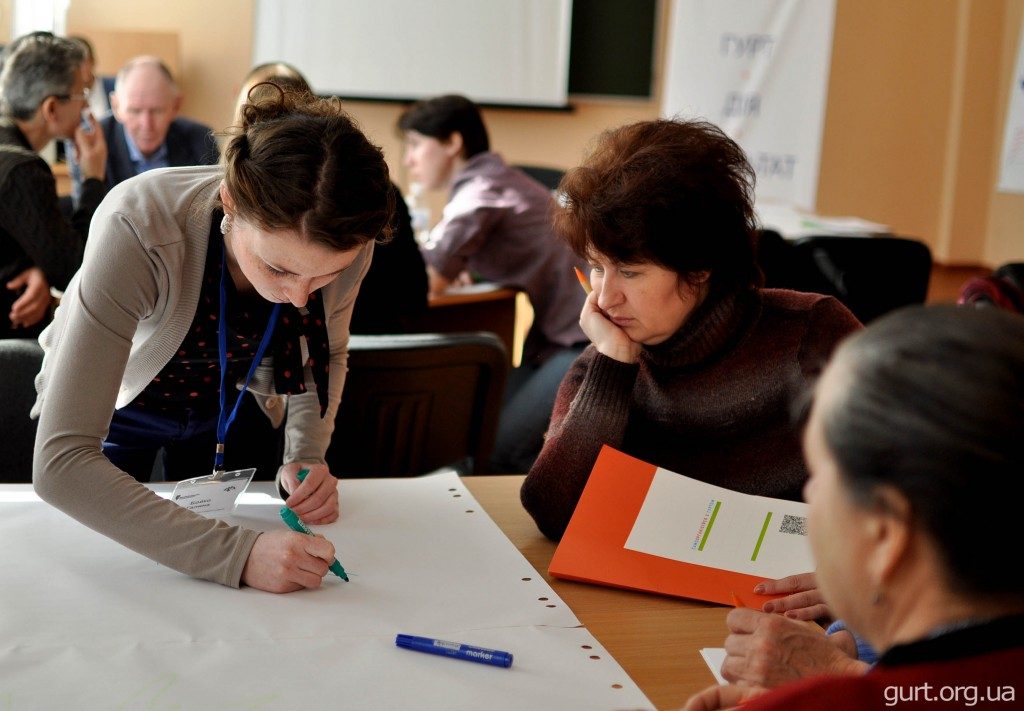 Yuriy Yukhimenko , Head of the NGO «Foundation for Youth Policy Support» (Bila Tserkva):
— It is important nowadays to support others in mobilizing and using of this form of adult education for solving pressing problems. The various problems give rise to establishment of variety of study circles. Furthermore, the human understanding of their importance appeared through participation in study circles, that is also of significsnt importance.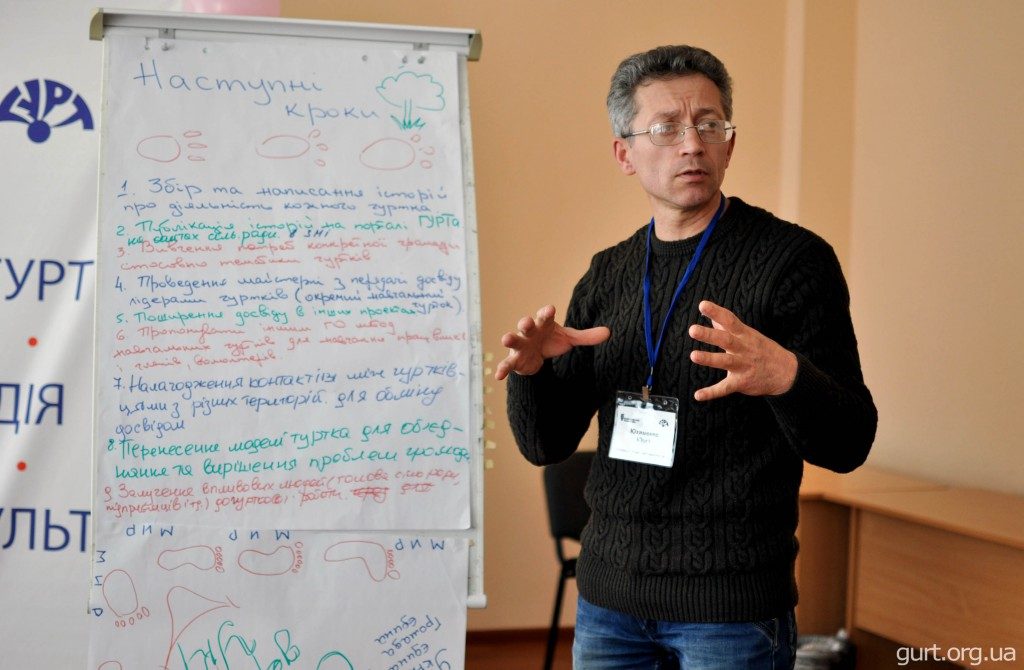 Galyna Boyko, community activist, (Novyy Korogod community):
— We came here not only to gain experience but also to share it. We must follow up such practice. This work will help us to promote and to tell more about the study circles, because we convinced in their effectiveness.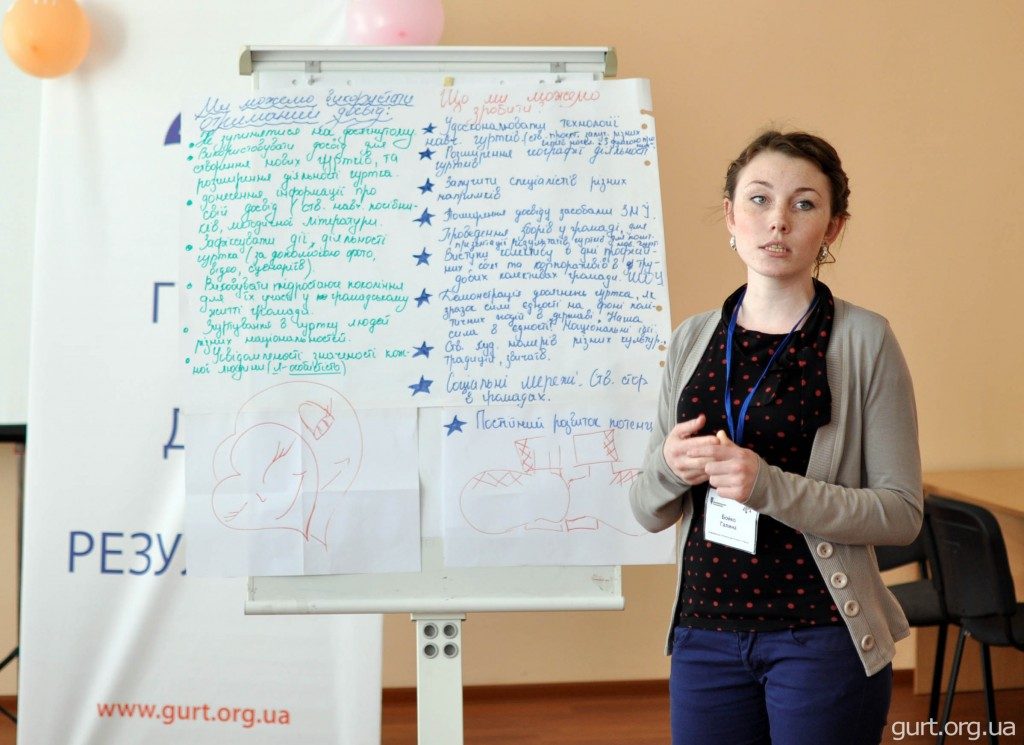 The study circle participants are not going to stop, since  they are very enthusiastic to follow up work in the future. The participants inspired and thus feel more responsibly for the continuation of the promotion of study circle methodology in their communities.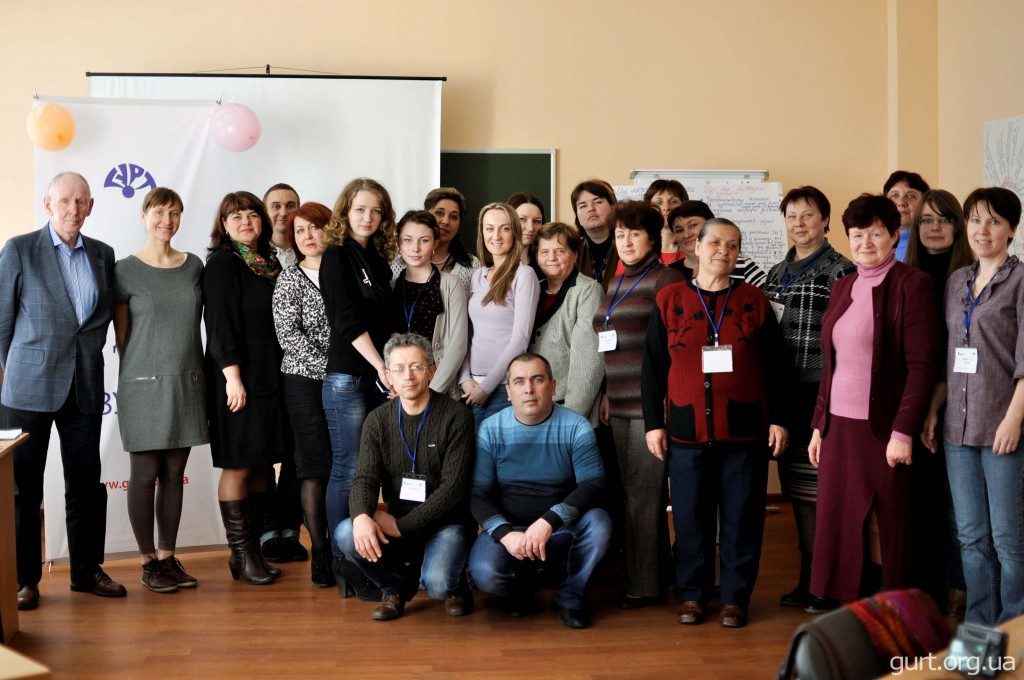 The project«Enhancing Local Democracy Through Adult Education» is implemented during 2012 — 2014 by GURT Resource Centre in partnership with Studieförbundet Vuxenskolan and funded by Forum Syd ( Sweden).
Video and presentations you can find on the project web-site of the «Adult Education».