In 2016, GURT piloted the idea of creating the Ukraine Civil Society Action Platform within the project "Building a membership based civil society network in Ukraine based on the GURT Resource Centre", funded by the Ministry of Foreign Affairs in Estonia and implemented in partnership with the Network of Estonian Nonprofit Organisations (NENO). The project aims at sharing the experience between the partners in the fields of building and functioning of the CSOs network in Ukraine.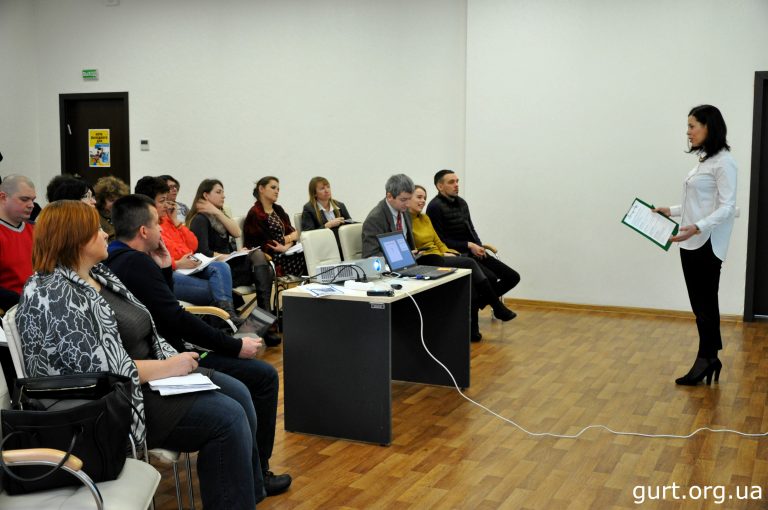 As experience shows, when different CSOs are united and work as a one team in a dialogue between the civil sector and different governmental and non-governmental organizations, it increases their chances to be heard. The CSOs network provides an opportunity to solve socially important problems more efficiently.
However, the idea itself to create such network in our reality will raise different questions. So, the CSOs representatives want to know about the advantages of such consolidation as well as about the possible pitfalls. For this reason, GURT initiated the discussion of the idea to establish the Ukraine Civil Society Action Platform so that every NGO in Ukraine could join it.
During December 2016 – February 2017, the focus groups had the meetings in such cities: Lviv, Dnipro, Zaporizhzhia, Kharkiv and Lutsk. The agenda consisted of a wide range of topics: from strategic questions like the goal of organization and its targets, to quite practical – how the network is going to function, who will administrate the center and the sources of financial support. The representatives of civil sector also reflected on the criteria of membership, structure, ways of coordination and administration; they defined how much resources will be needed for functioning and talked about the necessity of membership fee.
The disputes which appeared during discussions showed that reaching consensus in some questions won't be an easy task. However, the CSOs representatives admit that there are some vital problems which require much work. In particular, a lack of cooperation between the CSOs, authority and society, absence of partnership with authority on all levels, weakness of CSOs in general.
Also, they acknowledge that the NGOs have a little influence on the priorities of donors' support, due to this reason the needs of the sector not always are taken into account. So, the CSOs network is planned to become a platform for communication, finding the partners, cooperation of CSOs with different influential institutions and with one another, sector's professional level growth. It should create for NGOs the opportunities not restricting them in actions or authority.
To see the full version of the report in Ukrainian about the results of work in the focus group on the question of the Ukraine Civil Society Action Platform establishment follow the link.
The project is funded by the Ministry of Foreign Affairs in Estonia and lasts from May 2016 to December 2017.
Translated by Pavlo Shyba