The usage of modern information and communication technologies is the key of NGO's effective activity. Since 2016, GURT Resource Centre in cooperation with TechSoup has implemented Technology Assistance Program for Ukrainian Non-Profit Organizations, which is a real opportunity for the modernization of CSOs. Owing to this Program, the organizations can obtain software on special terms from the world leading donors.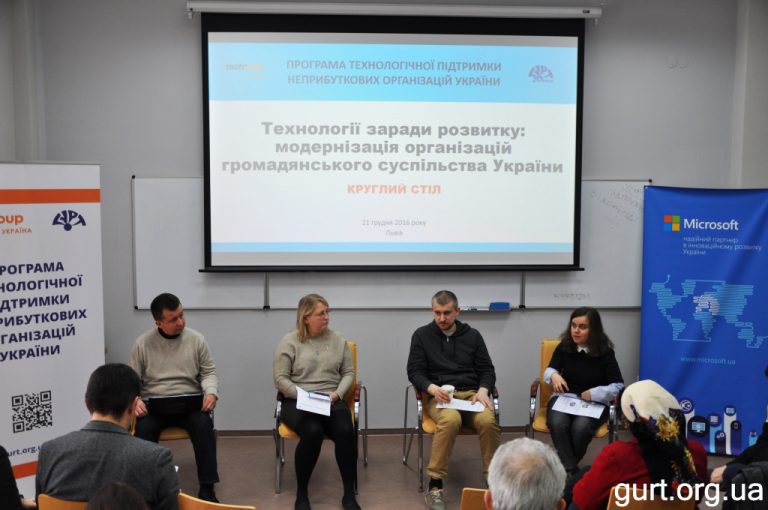 GURT Resource Centre continues to introduce local NGO's with the possibilities and prospects which Technology Assistance Program for Ukrainian Non-Profit Organizations opens for them. For this reason GURT and its partners are conducting events in different regions of Ukraine. Roundtable discussions, entitled «Technologies for Development: the Improvement of Ukrainian Civil Society Organizations», took place in Lviv and Dnipro respectively on December 21 and 27, 2016. And on January 21, 2017, there was a TechSoup Ukraine presentation in Zaporizhzhia on the Forum «Internet Technologies for the Development of Human, Community and City».
Executive Director of GURT Resource Centre Bohdan Maslych told about the tools and opportunities that become available for those who are involved in the Program: «The Mission of TechSoup Ukraine is to help to provide with the tools of information and communication technologies, which will allow the leaders of civic organizations to work more effective. Civil organizations have to meet the today's challenges, and for this they should be modern and technologically advanced».
It is simple to get software on special terms. You need to register on TechSoup platform and pass the procedure of verification. After these actions, you can order the software that is necessary for the essential work of non-profit organization.
Translated by Valeriia Hura