NGO Connection Day 7, organized by Microsoft and GURT Resource Centre (Kyiv, Ukraine), took place on April 10, 2015 in Kyiv. This time the key issues of the event, except information technologies, were successful practices of NGOs in the area of national defence, reforms and European integration of Ukraine.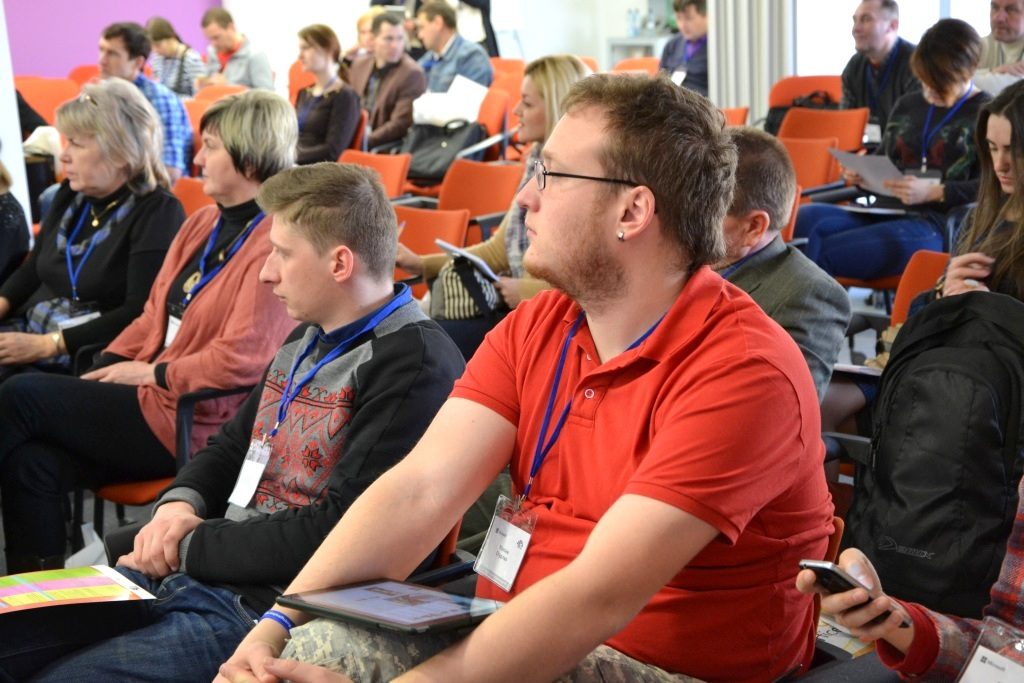 According to organizers, the purpose of the event is to give Ukrainian NGOs opportunities to establish better linkages with partners, to learn how to use free software provided by Microsoft, to disseminate the best practices of societal transformations.
NGO Connection Day 7 brought together more than 100 executives and managers of national and regional NGOs.
Manager of social programs of «Microsoft Ukraine», Oleksandra Chuvakova, opened the event: «Microsoft tries to support Ukraine in realizing its' potential through information technologies. According to Microsoft's country plan, we provide Ukrainian NGOs with free software and services like Office 365, which allows organizations to create their corporate environment in the cloud».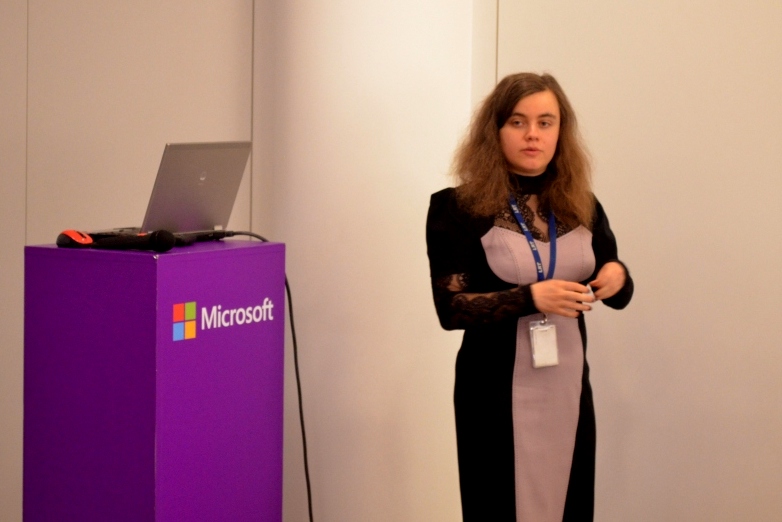 After official opening the panel discussion «From Revolution to Evolution: How to Ensure the Sustainability of Social Transformations in Ukraine?» took place. Among invited participants there were leaders of organizations and initiatives that have emerged or developed during Maidan: co-founder of the Open University of Maidan Yuliya Kocherhan (Kyiv), co-founder and coordinator of volunteers in Employment Center for Free People Maryna Lebid (Kyiv), co-founder of «Teple misto» environment Yuriy Filyuk (Ivano-Frankivsk), co-founder of Volonterska Sotnya Arseniy Finberg(Kyiv), менеджер прав інтелектуальної власності Platform for Cultural initiatives «Izolyatsia» Oksana Kirichenko (Kyiv) and program director of Impact HUB Odessa Aleksandr Slavskiy(Odesa).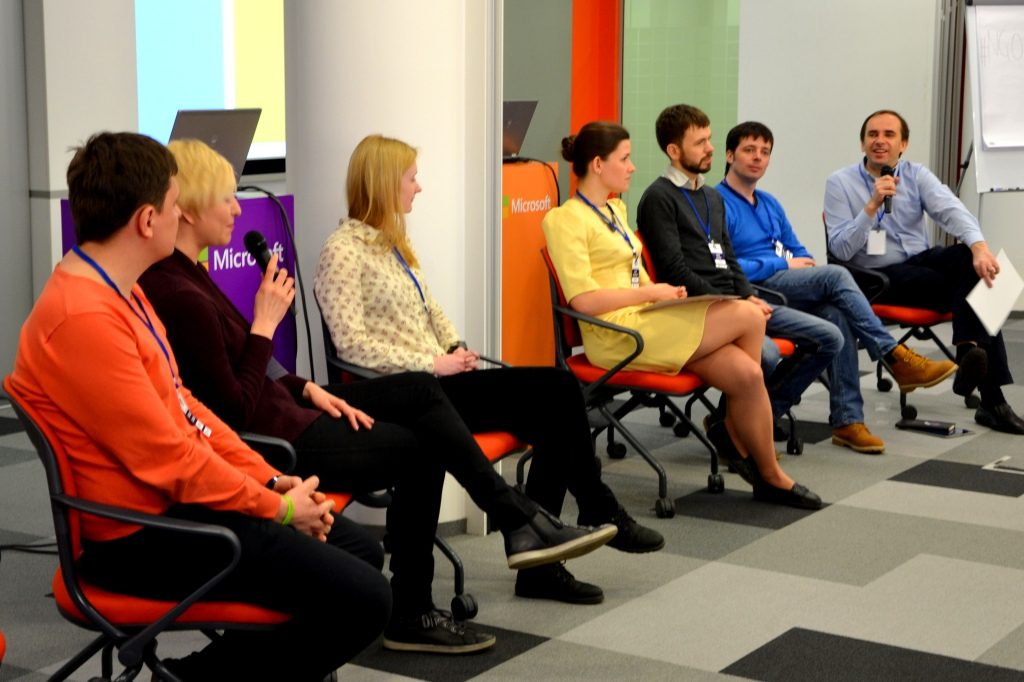 Arseniy Finberg: «In 2004, we thought that if we change certain state authorities, everything will become better very soon, we will be in Europe and will definitely reach the highest goals. Revolution of Dignity convinced us that if we want changes, we have to implement them by ourselves. I faced with humanitarian problems in my hometown and now I'm trying to overcome them».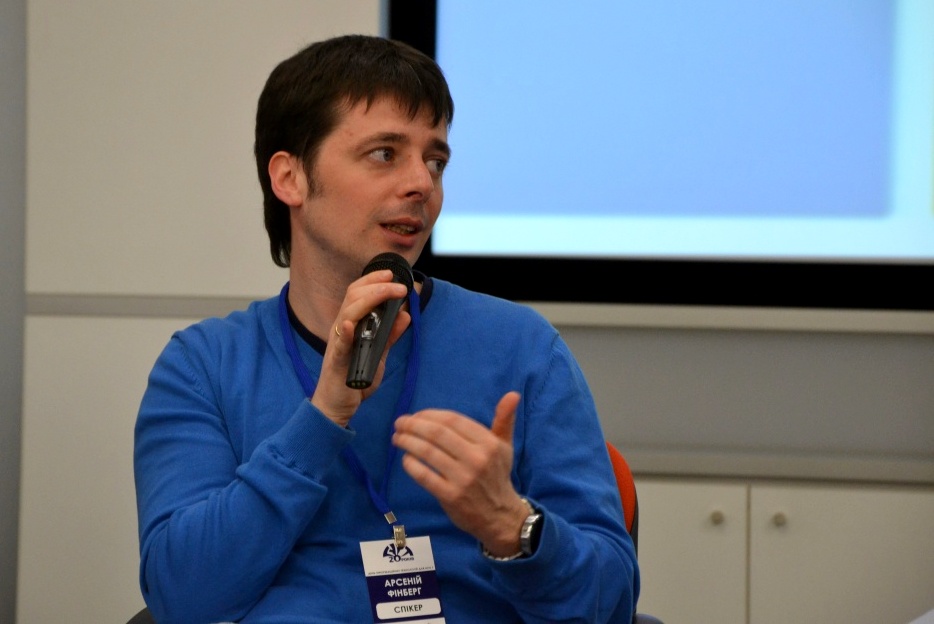 Yuliya Kocherhan: «There were people who believed that the revolution should be not only on the Maidan, but in their heads. The issue of our discussion is related to sustainable development. Sustainability is critical for our country. I was among those who advocated the closure of Open University of Maidan after the revolutionary events. Now we have 10 regional centres that were founded by the ordinary people».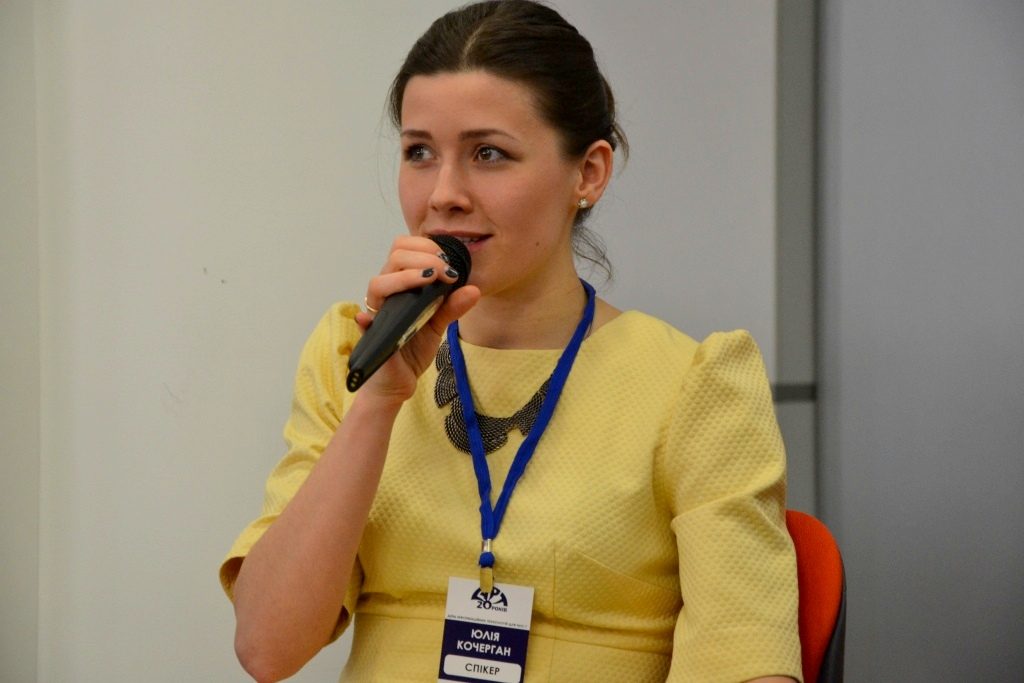 Yuriy Filyuk: «We wanted to live in more dynamic space than there was in Ivano-Frankivsk. First we focused on the values that should be the basis for right decisions. The second point was well thought-out steps. We do not implement one-off projects, but trying to do strategic things. We have recently revised our activities, so now «Teple Misto» is not just an environment, but it is a platform that will help new projects to become better and effective».
Oksana Kirichenko: «The organization must be stable and its projects should be independent in terms of funding. However, it is much more important to teach people who come to the organization and ensure its sustainable development. The future of the country depends on this».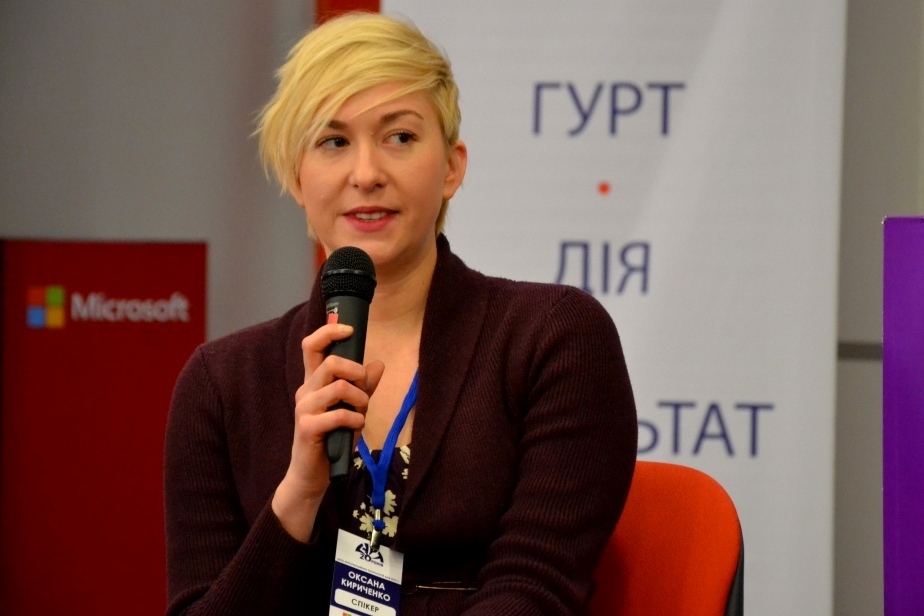 Alexandr Slavskiy: «The model that we use is made of civic activists, their ambitions and desire to change the world, as well as business and governmental representatives. Only together, these three components will ensure sustainability throughout Ukraine. I do not know how to achieve this. However, we propose to cultivate opinion leaders that can ignite other».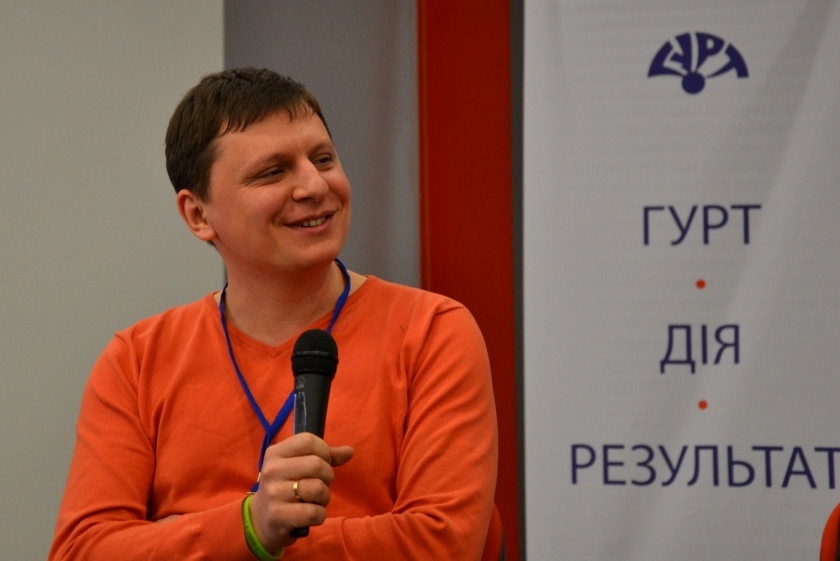 Representatives of Microsoft, who presented legal and technical opportunities for increasing NGOs information security, career opportunities for young people at Microsoft, Microsoft CityNext portal after the panel discussion.
Legal Advisor at «Microsoft Ukraine» Olga Prokopovych: «Microsoft data centres annually undergo an independent audit for compliance with our internal standards and international standards for IT. I want to draw your attention on ISO 27018, adopted in January 2015, which supervises the activities of providers of cloud services. Among its requirements there are transparency of the industry in return, moving and deleting of personal data stored in data centres; restrictions on the handling of personal data, including its transmission through the network, storage on portable media, as well as the proper procedure of data recovery, non-use of corporate customers data for promotional purposes etc. By the way, Microsoft was the first company in the world that has certified its data centres in accordance with this standard».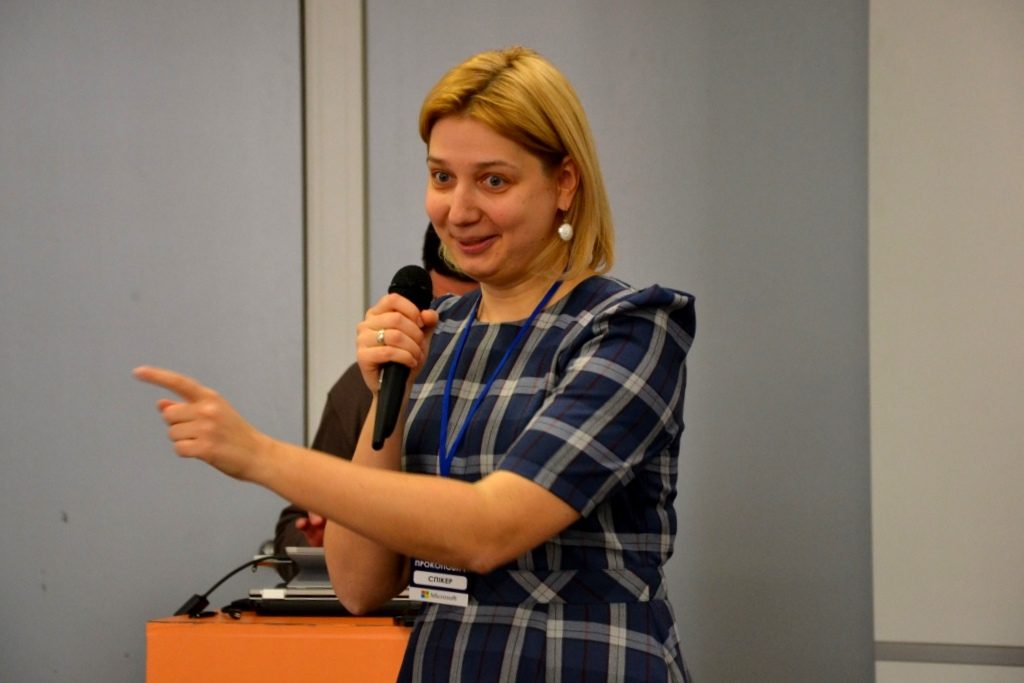 HR Director at «Microsoft Ukraine» Mychaylo Zavylov: «Everyone knows the word «hacker». However, we as IT company use it with a positive meaning speaking about people who implement their ideas, enable friends to test them and, based on their review, modernize final product. Do not be afraid to take other people's ideas and develop them. This is not bad because it is also an indicator of the efficiency and speed of decision making».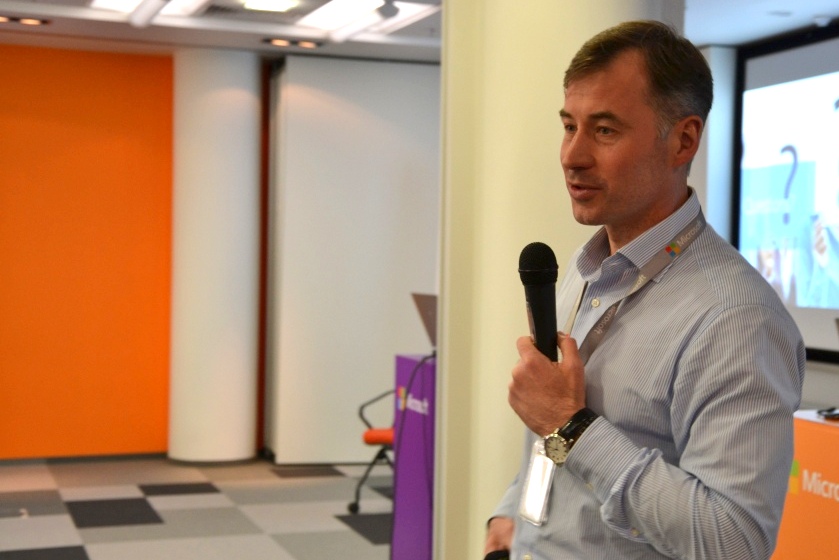 The case study session based on real needs of three NGOs – Donetsk city public organization «Alliance», Employment Centre for Free People and Community Fund of Pryirpinnya attracted particular attention.
Expert on cloud solutions at «Microsoft Ukraine» Igor Tregubenko offered the best options for resolving this cases: «Among the issues presented in the case studies, there are two main areas – data protection and efficient communication. Microsoft used to provide NGOs with free software. However, with help of our cloud technologies it became possible to use the ready-made solutions provided within Office 365 package».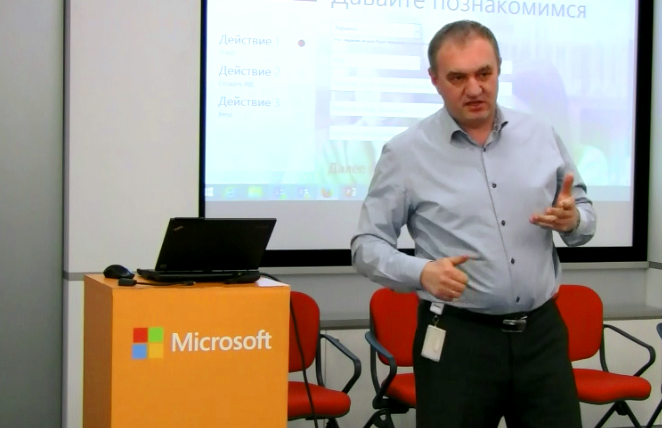 In the second part of the event, the space was divided into three independent streams, where NGOs presented the best practices of their activities.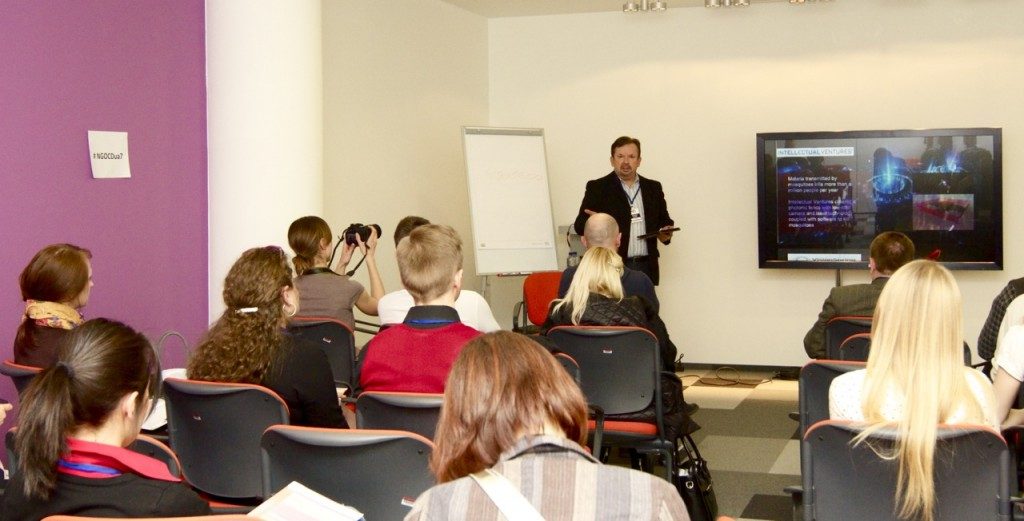 Manager of social programs of «Microsoft Ukraine» Oleksandra Chuvakova: «In three parallel streams about 20 speakers were presenting their experience. They represent different organizations, but their initiatives are real drivers for changes in our country».
GURT web portal editor Kateryna Polyakova told about the opportunities of GURT web portal for NGOs and their networking.
Director of ICO «Partnership For Every Child» Vasylyna Dybaylo and Project coordinator of NCO «Down Syndrome» Vyacheslav Zyryanov shared their experience of participation in the project «The Good World».
Director of PH International Ukraine Andriy Haydamashko presented features of the «Information Dissemination and Equal Access » Project (IDEA).
IT Coordinator of civic platform «Nova Krajina» Ivan Pushechnikov shared IT-experience of civic platform «Nova Krayina».
Coordinator at «EVZ Stafftung» Lesya Harchenko told about dialogue between generations as a tool for development of youth leadership.
Coordinator of civic platform «Nova Krayina » Maxim Levkivskyy offered IT-solutions for regional development.
Coordinator of information activities of Kyiv Cyclists Association Anastasia Makarenko presented promotion of bicycle culture between (NOT) cyclists.
Can anyone help with money without spending money? Initiator of charitable trading platform «Myrahy» Dmytro Fedorenko answered this question.
The head of NGO «Parostok» Iryna Sarancha told about the cooperation of public organizations and government in the employment of people with disabilities.
Board Member of Borsch Foundation Bohdan Kupych presented social entrepreneurship as a tool for solving social problems.
Coordinator of National volunteer centre «People's project» Artem Kovalchuk presented his experience of IT influence on the development of the country.
More photo from the event are available at GURT's Facebook page.
Media report in Ukrainian is available at GURT web-portal.